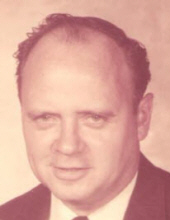 Obituary for Willis "Bill" Matthew Knight
Willis Matthew Knight, a long-time resident of Wimberley, Texas passed away peacefully on Wednesday, April 11, 2018 at the age of 88. Bill was born in Hyattsville, Maryland on November 22, 1929 to Allan Morton Knight and Elizabeth M. (Bessie) Hawkins. He was a proud veteran who served in the U.S. Air Force for twenty years and retired in August 1967. Bill served at numerous U.S. air bases as well as bases in Guam, Greenland, Korea, Germany, and Viet Nam. He ended his military career at Lackland AFB in San Antonio, Texas. After his retirement from the military, Bill went to work for the Internal Revenue Service in Austin, Texas. He served as the President of the IRS Employees Union for a number of years. He retired from the IRS after 20 years of service.

Bill was preceded in death by his wife, Mary Jane (Hodgkinson) Johnson Knight and his stepson, Robert Dudley Johnson. Bill is survived by his daughters Anna Slocum in San Antonio, Texas, and Mary Elizabeth Hall and her husband Jim in Thorndale, Texas, and by his stepdaughter Sarah Jane (Johnson) Barlow and her husband Steve in Wimberley, Texas. Bill also leaves six grandchildren, Robert Dudley Johnson, Jr., Tracy Lynn (Johnson) Hlavenka, Jay Hall, Amanda Hall, Matthew Hall, and Grace Hall. He also leaves three great grandchildren, Forest Thomas Johnson, Josh Hlavenka, and Savannah Hlavenka.

For more information, call Thomason Funeral Home at (512) 847-2226 or visit www.thomasonfuneralhome.com to sign the guest book.