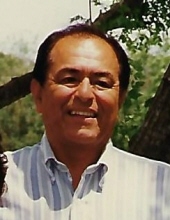 Obituary for Octaviano "Tano" Rivera
Octaviano "Tano" Rivera

March 22, 1934 to April 16, 2018

Our Beloved Father, Octaviano Rivera, age 84, born in San Marcos and longtime resident of Kyle, was called by our Heavenly Father on Monday April 16, 2018. He was surrounded by his Children, Grandchildren, and Sisters.

He is survived by his sons: Roberto Rivera (Mary C Rivera); Martin Rivera (Christine Rivera); Gilbert Rivera (Sarah Rivera); Gabriel Rivera; Andy Rivera (Kathryn Rivera). He is also survived by his daughters: Janie Phillips (Stephen Phillips); Ana Maria Rivera; and Sandra Rivera. He had 9 boys and 3 girls, with 4 sons preceding him in death; Ruben Rivera, Fabian Rivera, Joseph Rivera, and Steven Rivera. His wife, Maria Luisa Rivera; his mom, Crestina Garcia; and his dad, Ramon Rivera, also preceded him. His surviving siblings are Janie Alvarez (Manuel Alvarez), Luis Garcia Jr. (Delores Garcia), Gloria Garcia, Roy Garcia, and Mary (Garcia) Rodriguez. His brother Natividad Garcia (Isabel Garcia) preceded him in eternal peace.

His grandchildren: Brandy, Patrick, Stephanie, Ashley, Sarah, Veronica, Robert A, Maria, Dominic, Daniel, Nieves, Erika, Michelle, Justine, David, Mark, Shane, Benjamin, Selena and Jacob. He also had 26 great grandchildren.

Octaviano Rivera (known by most as "Tano") first worked as a carpenter. Now-a-days most people call them construction workers, but in his day they worked all areas of building or remodeling. Yet he is most known for his career in radio broadcasting. He was the Spanish announcer at KCNY 1470 for over 12 years and won a Prestige Golden Award as Best Spanish Announcer in March 1983. In spite of his 7th grade education, he accomplished so much with his radio career - sitting behind the desk speaking to the San Marcos community. Our dad was as timid man; however, behind the microphone he came out of his shell and expressed himself with confidence. After 12 years at KCNY, he moved to KELG in Austin, Texas. There he started as a weekend personality, moved to mornings, then eventually to the evening shift. He worked there until his retirement.

Our father had such a great love for music that he and our mother owned "Rivera's Record Shop." We remember him and mom singing together a few times. He always had a love for the guitar and played some. Now he has 3 generations who have inherited that love. His son Gilbert Rivera, his grandson Robert Anthony, his granddaughter Ashley Phillips for the piano, and now granddaughter Miah Suniga has shown interest in the guitar as well.

Sadly, Dad suffered from Alzheimer's and we saw this take away much of his memory. Dad was a joker and when he would tell us, as he put it, "my computer is failing" as he tapped his head, we would think he was only joking. Time told us that he was not. It was difficult when you visited and he would not remember who you were and that was what painful to see.

One thing we can say we learned from our father, is that if you have a passion for something you want to do, don't give up. Work hard to accomplish that goal. For if you love something and put your heart into it, you will succeed. Even if you don't reach the full potential, you gave it your best and that is still success.

We will greatly miss our father but we carry a little bit of him in all of us.

His family will receive friends at Thomason Funeral Home in San Marcos on Friday, April 20, 2018 from 2:00 PM until 9:00 PM. Recitation of the Holy Rosary will begin at 7:00 PM. For more information, call Thomason Funeral Home at (512) 396-2300 or visit www.thomasonfuneralhome.com to sign the guest book.
Previous Events
Visitation
Thomason Funeral Home - San Marcos
2001 Old Ranch Rd 12,
San Marcos, TX 78666
Service
Thomason Funeral Home - San Marcos
2001 Old Ranch Rd 12,
San Marcos, TX 78666