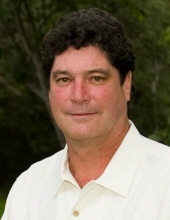 Obituary for Carl Frederick Scudder
Carl Frederick Scudder III also known as Rick or Ricky was born in Honolulu, Hawaii to Carl Frederick Scudder, Jr. and Ruby Jo Bridendall Scudder on April 25th 1955. Rick got a taste of travel early in life with family moves to Houston, New Orleans, Georgia, and Lisle, Illinois. He graduated from Lisle High School in 1973 where he became a 1973 Guinness Book World Recorder Holder for longest leap frog duration around the high school track. Following high school graduation, Rick attended Texas A&M University in College Station where he was the ping pong champion of Hart Hall in 1974.

Rick married Sheree Lea Lester Scudder in 1975 and graduated from Texas A&M University in 1978. Shortly following their graduation, they settled in Austin where their two daughters, Kristen and Carla were born. He began work at Jones Blair, a division of Trammell Crow Company as a sales representative. He graduated from Texas State University in 1991 with a Masters in History where he taught history at a graduate school level until 1997. Rick spent the next 21 years as a successfully licensed real estate broker and owner of ScudCo LLC which would eventually become Ridgeline Properties.

In 2008, he married the love of his life, Tracy. They enjoyed 10 happy years of marriage with frequent trips to Las Vegas, Lake Erie, and South Padre along with their dog, Hazel. Regardless of where his life took him, Rick bled maroon; never missing a Fightin' Texas Aggie football game or a chance to shake a fellow Aggie's hand. He also enjoyed sponsoring and excavating archaeological digs in North and South Dakota as well as collecting fossils from the Paleozoic and Mesozoic periods. He also enjoyed introducing his daughters, nieces and nephews to Star Wars, the stars and planets, inappropriate jokes, and of course..didn't we say he bled Aggie maroon? Aggie football.

Rick unexpectedly passed away on May 1st 2018 with his wife, Tracy by his side. Rick was preceded in death by his father, Carl, his sister Maura Lynn Scudder Donnelly and his beloved dog Hazel. He is survived by his mother Ruby Jo Bridendall Scudder, his mother Janet Scudder, mother in law Anne Todd Barfield, his wife Tracy Barfield Scudder, his brother Chris and wife Lynn Scudder, sister Lori and husband Roger Graham, brother and sister in laws Brad, Elizabeth Jones and Todd Barfield, daughters Kristen Scudder and husband Chris Lamb, Carla Scudder, and Preslee Leidecker Barfield, his nieces Amanda Scudder, Jennifer Donnelly, Meagan Donnelly, Lauren Graham, Caiti Stewart and husband Bobby, Kari Graham, Addison Jones, and Avery Jones, his nephews Barron Scudder and Braxton Jones, great niece Delilah Stewart, and great nephew Rankin Hileman. Aunt Dena Otstott and husband John Otstott, cousin Bill Scudder and wife Sherry, cousin Bruce Montgomery, cousin Suzanne Kelly and numerous other family and friends.

"What do you want from me, I'm living" – Rick Scudder
He lives on in Heaven and he loved it here.

A funeral service in memory of Rick will be held on Friday, May 4th 2018 at 11am at the Chapel In The Hills Church at 14601 Ranch Rd 12 Wimberley, Texas 78676. For those wishing to send flowers please contact Wimberley Flower Shop located at 14201 Ranch Rd 12. For those wishing to make a donation in memory of Rick, please donate to Hospice and WAG.