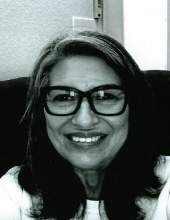 Obituary for Rosita Garcia-Contreras
On Wednesday, May 2, 2018, Rosita Garcia-Contreras, 58, of San Marcos, Texas, was peacefully called to be with her Lord. She is survived by cherished daughters Priscilla "Cilla" Ann Longoria, Erika Yvette Longoria, and her beloved husband, Francisco "Frank" Contreras. Affectionately called Rosa, she loved to spend time outdoors, cook, travel, and spend time with loved ones.

On Monday, May 7, 2018, her family will receive friends from 2:00 p.m. through 9:00 p.m. at Thomason's Funeral Home in San Marcos, with a Recitation of the Holy Rosary beginning at 7:00 p.m. A Mass of Christian Burial will be held Tuesday, May 8, 2018 at 10:00 a.m. at Saint John's Catholic Church in San Marcos. Interment will follow at Memory Lawn Memorial Park in Martindale. For more information call Thomason Funeral Home at (512) 396-2300 or visit www.thomasonfuneralhome.com to sign the guest book.