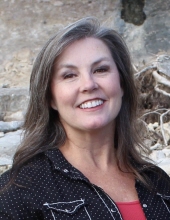 Obituary for Lori Lynelle Gosnell
Lori Lynelle Gosnell, 50, of Wimberley, Texas passed on to her final peace after a lengthy battle with cancer on May 6, 2018.

Lori was born October 10, 1967 in Beaumont, Texas to Larry and Brenda (Slampa) Musselwhite. She was married February 25, 2006 in Houston to Darin Gosnell.

Lori grew up in Corpus Christi, Texas and was a graduate of Tuloso Midway High School. Lori graduated from the University of Texas at Austin, and obtained her Doctor of Jurisprudence at The University of Texas at Austin School of Law.

An attorney by trade, Lori's true passion lay in art and helping others. She attended art school at the University of Houston, and was the owner of the Hi-Art gallery in San Marcos, Texas. Lori was at her happiest when following creative pursuits, whether it was painting, baking, woodworking or simple crafts. She often left others in awe of her magnificent cakes and baked goods and her painstakingly crafted costumes for her beloved son.

Lori was on the board of the Katherine Ann Porter School which gave her the opportunity to follow her passion for helping others. Lori created and helped implement pro bono legal services to those who would otherwise be unable to afford legal help in Hays County.

Lori is survived by her son Strummer Gosnell, husband Darin Gosnell, mother and father, Brenda and Larry Musselwhite of Wimberley and her sister, Lisa Musselwhite of Tuscon, Arizona.

Visitation will be at Thomason Funeral Home at 14700 Ranch Road 12, Wimberley, Thursday, May 10 from 4-7 p.m. A celebration of Lori's life will take place at 2:00 p.m. Friday, May 11 at Unity of Wimberley at 455 White Wings Road, Wimberley with Rev. Jill Carey officiating. Interment following immediately at Wimberley Cemetery, 471 Old Kyle Road in Wimberley.

Lori was a beloved mother, wife, daughter, sister and friend whose beautiful smile, sparkling eyes, dancing feet and generous heart and soul will live on in us all forever. Goodbye dear heart until we meet again.