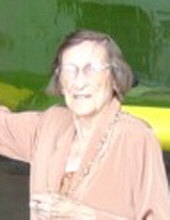 Obituary for Mayme Lee Tanner
Mayme Lee Knight Tanner was born in Segno, Texas on July 26, 1914, to Bessie May and Willis Knight. She lived there with her brothers and sisters and attended the local schools until she left for college. Mayme worked in the family's general store which also served as the rural Post Office in her younger days. Mayme was well known as being a hard worker and very ambitious.

One of her first jobs after college was Pay Master and Notary Public for Grogans Lumber Mill in Magnolia Texas. She would tell many a story about having to be up very early to hand out the brass for the day workers. Back then, many men would only work for a day or two and then move on. As they couldn't write their names, they were paid by the number on the brass disc they were issued. Another of her jobs was to notarize the deeds for the timber land purchased by Mr. Grogan for the Mill.

It was during this time that Mayme learned to fly airplanes. Her first flights were made in old by-wings and crop dusters. She loved her flying so much that she earned her commercial pilots license and she said she wanted someone else to help pay for her flying. She would tell stories of flying businessmen right to their meeting location. When asked where she landed the plane, she said she would find a clean stretch of road and just put it down, turn it into the wind and take off again. That was Mayme.

When World War II broke out, Mayme went to work for the U.S. Navy at the Corpus Christi Naval Air Station, operating an instrument flight simulator to train the Naval Aviators for instrument flight.

It was at Corpus Christi that Mayme learned about a new service they called WASP (Women's Airforce Service Pilots) which was a group of very special women who were trained and tasked with the mission of picking up the war planes at the aircraft factory and flying them to the point of embarkation or on occasion, ferry bombers on trans-Atlantic flights to England. Mayme was thrilled to learn about the WASPS and immediately volunteered for service. Much to her dismay, she was not allowed to leave her job at the air station as her job skill was considered critical to the war effort and the Navy would not release her. Mayme was not a lady to be told NO, so she began writing letters and appealing to everyone that could possibly help her. It took almost two years of letters writing before a congressman convinced the Navy Admiral that Mayme had made a very good argument for her release. She said, "anyone even a monkey can be trained to push buttons………..BUT I CAN FLY and my skill is wasted pushing buttons!"

Next stop, Sweetwater, Texas and Avenger Field, for WASP training. This opened a whole new chapter of adventures and stories for Mayme. She loved to fly and she loved the WASPS. The WASPS were a very special group of strong, courageous women that served their country in silence. They volunteered for service, they paid their way to Sweetwater and at the war's end, they paid their own way home. It was not until the 1980's when President Bill Clinton recognized their efforts and contribution to our country.

After the war, Mayme married Jim Tanner and lived in Houston where she worked for Shell Oil Corporation. Mayme was in on the ground floor of a new refining method called Cat Cracking or Catalytic Conversion for crude oil. She worked for over 30 years with and held the distinction of being the only non-engineer to be in charge of the distilling unit at the refinery and the only woman to hold that position.

Upon retiring, Mayme and Jim moved to Wimberly where she would feed her mini herd of deer at the back patio every morning and evening. She would set out small piles of corn so each deer would have their own spot to eat, and each deer had their own name given by Mayme.

Mayme was very close to her siblings especially her brother Vester. They had a special bond and loved to go fishing and hunting and were constantly making plans for the next adventure. In later years, the hunting trips turned into a photographic expedition where they made movies of the deer and other wild life. Mayme loved the outdoors and loved nature.

In later years, Mayme's love for flying never faded on her 93rd birthday, she and Paul Mendes went for a flight at the San Marcus Airport. From takeoff to landing, Mayme took the controls and flew that plane like it had only been yesterday that she was crossing the country in the war planes.

On one flight, Mayme had taken off and was climbing out when the stall indicator started chirping. As the sounds grew louder, the instructor keyed the mic and told Mayme to push the nose down a little as she was climbing too fast. Mayme dropped the nose and trimmed out the aircraft. After setting all of the controls, Mayme smiled and said, "you know sonny, the planes I use to fly had a hell of a lot more power than this one does." That was Mayme.

On Mayme's 100th birthday, she was asked by a reporter what was her fondest memory in her life. Without a second of hesitation she said "FLYING."

On the 8th of May 2018 at zero six hundred hours, Mayme departed on her final flight and now, she flies with the angels.

It was a beautiful day to fly.

Her funeral service will be held at Thomason Funeral Home in San Marcos on Saturday, May 12, 2018 at 2:00 PM. Entombment will take place at the San Marcos City Cemetery following the services. For more information, contact Thomason Funeral Home at (512) 847-2226.