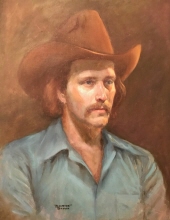 Obituary for Daniel Walter Roy Brown
Daniel Walter Roy Brown, 64, passed away Saturday May 12th in Wimberley, Texas due to congestive heart failure.

Dan was kind, hard-working and incredibly generous. He was greatly respected as an expert in his field of structural engineering and traveled the globe during his 40 years in the business. Dan was an Eagle Scout, honor student, and father of one son: Barrett G. Brown, military history buff, expert marksman and a music lover.

Dan was preceded in death by his father, Bobby Roy Brown.

Dan is survived by his mother Bernice, brothers Jeff and Clint, son Barrett, numerous nieces and nephews and countless friends.

The service will be held at First Christian Church, San Marcos, Texas, on May 25th at 11 am.

For more information, call Thomason Funeral Home at (512) 847-2226 or visit www.thomasonfuneralhome.com to sign the guest book.