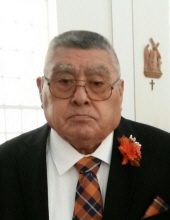 Obituary for Jose Perez Leija
Jose "Joe" P. Leija passed away peacefully on May 14, 2018 at his home in Lockhart, Texas. He was born on January 5, 1937 to Ernesto and Elvira Leija, the youngest of three.

He joined the Military in October of 1960, where he served eight years in the U.S. Army and Reserves. He retired a Sergeant of the 4th Battalion in the 133rd Artillery division. Before he was drafted he married Virginia Sanchez-Leija and when he returned from overseas they had 3 children: Michael, Christine, and John Anthony "Johnny". In 1968, Joe remarried to Bertha Perez-Leija and had 3 more children; Ernest, Anna and Gabriel. He later adopted her son Michael.

He worked at Livengood feeds for 30 years where he made many lifelong friends. He enjoyed to BBQ, fish and be with his family and friends. He was a great cook and known by many for his Bar-B-Que. He also volunteered for many organizations by cooking his delicious BBQ. He worked hard and took care of all his family. He was an active member of St. Mary's Catholic Church in Lockhart. He also was a part of the Cemetery Committee, where he became famous for his Menudo and Hot Sauce.

He is preceded in death by his parents Ernesto and Elvira Leija; his wife of 8 years Virginia Sanchez Leija and their infant son, Ernest; his brother Santos Leija; and Great-Granddaughter Victoria Hernandez.

He is survived by his wife of 49 years, Bertha Perez Leija; children: Michael Leija (Amanda); Christine Hernandez; Johnny Leija (JoAnne); Michael Leija (Vanya); Ernest Leija; Anna Ramos (Mario); and Gabriel Leija (Nina). He also left behind his grandchildren and great-grandchildren: Bryan Leija and daughter Sophia; Zachary Leija; Nicholas Leija; Isaac Leija; Freddy Hernandez; Jose Hernandez; Brandi Mendez (Allan) and children Sienna, Melina and Titus; John Anthony Leija II; Valerie Leija and children Jaiden, Jaislynn, and Camaron ; Anthony Leija (Amber) and children Avarie, Nevaeh, and Peyton ; Ashley Martinez (Eric)and children Brandon, Nathaniel, and Noah; Mario Ramos Jr; Marissa Ramos; Joshua Ramos; Corina Ramos; Laryssa Leija and daughter Jayla; Fabian Leija; Sister Consuelo Moya along with many nephews, nieces and cousins.

His family will receive friends at Thomason Funeral Home (2220 South Colorado Street, Lockhart, TX 78644) on Thursday, May 17, 2018 from 4:00 PM through 9:00 PM, with a Recitation of the Holy Rosary beginning at 7:00 PM. Mass of Christian Burial will be held Friday, May 18, 2018 at 10:00 AM at Saint Mary's Catholic Church. Interment will follow at Saint Mary's Cemetery, where he will be served with Military Honors. Pallbearers will be Grandsons: Jose, Zachary, Nicholas, Isaac, Anthony, Mario Jr, Fabian and honorary pallbearer John Anthony.

For more information, call Thomason Funeral Home at (512) 398-2300 or visit www.thomasonfuneralhome.com to sign the guest book.