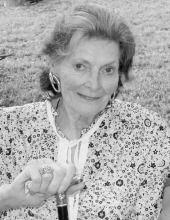 Obituary for Mary Walker King
Mary Mars Walker King passed away peacefully on May 15, 2018, one day before her 89th birthday, at her residence at Brookdale North in San Marcos, Texas.

Mary was born in Duluth, Minnesota to Allison and Florence Mars Walker. She lived in Imaly City, Michigan and St. Louis, Missouri before moving to Houston, Texas in 1938. Mary attended Lamar High School and graduated from Gulf Park Jr. College in Gulfport Mississippi before attending the University of Houston and the University of Texas.

In 1950 she married Roswell Easton King, Jr. (Ros). They lived in San Antonio and Dallas before returning to Houston in 1968 where they lived in Memorial.

Mary and Ros enjoyed traveling, boating, deep-sea fishing, seashell and shark tooth hunting, gardening, bridge, poker, dancing, football games, picnics, bar-b-ques, and most of all, family gatherings.

They retired in 1986 and moved into their weekend lake cottage in Wimberley, (where they lived happily ever after).

Mary was active in the Altar Guilds of St. Luke's Episcopal Church in Dallas and St. Stephen's Episcopal Church in Wimberley for many years. She enjoyed reading, quilting, doll house building and decorating, genealogy, New York Times cross word puzzles, crewel needlework, people watching, country music, and Native American Indian lore.

She was a member of the ageless birthday "Luncheon Ladies", the Sewing Club (that didn't sew) and was a charter member of the "Frump Floaters" who enjoyed tubing in the beautiful lakes, creeks, and rivers of Wimberley.

She was preceded in death by her parents, her sister Sally Sweeney, her brother Richard (Dick) Walker, her nephews Bill Walker and Chris Sweeney, and her husband Ros who passed in 2005.

Survivors include her son Dr. Roswell Easton King, III "Rick" and his wife Sojin of Pleasantville NY, her daughter Melinda Tebo of Belton, MO, and her daughter Susan Lucille Lewis and husband Philip. Grandchildren include Eric Chen, Nicholas King, Leslie Lewis Sigler, Kara Lewis Cox, Philip Lewis, Jared Tebo, and great grandchildren, Winslett, Lyla, Camilla, Shepard, Arthur, Caroline, and Smith, and her many very beloved nieces and nephews.

A Celebration of Life service will be held on June 9, 2018 at 10:00 a.m. at St. Mark's Episcopal Church 3039 Ranch Road 12 San Marcos TX 78666. A reception will follow in St. Mark's Parish Hall.

Mary's request was that in lieu of flowers, please just smile when you think of Mary. She hoped to bring a little joy into this world and would be very pleased if she could leave some.

Note from Rick & Susie: If you still want to make a memorial contribution in Mary's name, the family suggests donations be made to St. Stephen's Episcopal Church in Wimberley TX (Memorial Fund), St. Mark's Episcopal Church in San Marcos TX (Forever Fund), or to a favorite charity of your choice. Many thanks, many blessings.

For more information, call Thomason Funeral Home at (512) 396-2300 or visit www.thomasonfuneralhome.com to sign the guest book.