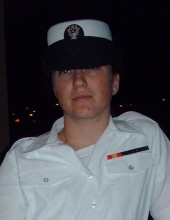 Obituary for Stephanie Nicole Croft
Stephanie Nicole Croft Bailey

Memorial services for Stephanie Nicole Croft Bailey, 32, of 188 Pearl Lake Dr. Kyle, Texas will be at 8:00 am Monday, May 28 at Aviation Support Facility, 5102 Emma Browning Drive, Del Valle, Texas and Graveside Burial will be at 10:15 am Friday, June 15 at Fort Sam Houston Cemetery in San Antonio, Texas. Directed by Thomason Funeral Home. She died Saturday morning, May 19, at Seton Medical Center of a sudden illness. She was born July 21, 1985 in Big Spring, TX. She married Curtis Clinton Bailey August 17, 2013 in Marlin, TX. She graduated from Frosan, TX in 2003. She was in both the Army and Navy and was medically retired. She was continuing her education and received her Associate's degree and was currently working on her Bachelor's degree in Forensics. She loved arts and crafts and painting. She was a full time mother to her son and full time wife. Survivors include her husband Curtis and one son Berry Craig Troy, all of Kyle, TX; parents Troy and Tammy Croft, Big Spring, TX; one brother Berry Bryan Croft, Big Spring, TX; one grandmother Shirley Croft, Stella, MO; one nephew Josh Dienver Croft, in the Philippines; and a number of Aunts, Uncles, and cousins. For more information, call Thomason Funeral Home at (512) 396-2300 or visit www.thomasonfuneralhome.com to sign the guest book.