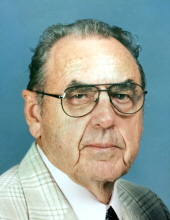 Obituary for Curtis Lee Unruh
Curtis Lee Unruh passed away on May 27, 2018 at the age of 96 in the Conroe Regional Hospital. Curtis, or Pap as he was referred to, was born in Montazuma, Kansas on November 8, 1921. He served in the Army from January 9, 1942 until his Honorable Discharge in October 7, 1945. He was married nearly 73 years to Irene Jene Unruh.

Curtis was a very proud, kind, and generous man. He also enjoyed teasing others, especially when he was teased back. Curtis was dearly loved by all his family.

Curtis was also a creative craftsman and enjoyed building and working with his hands. In his long life, he and Irene experienced many wonderful events together and saw many sights through their travels together.

Curtis will be truly missed by all his surviving family and friends; his Loving Wife – Irene Unruh; Daughter – Sharon Cook (Husband – Terry); Son – Steve Unruh; Grandchildren – Heather Brackens (Husband – Jackie), Keely Pruitt (Husband – Kevin), Misty Block, Larry Unruh (Wife – Amanda), Clint Cook (Wife – Dina), Chad Cook, and Christine Bowers (Husband – Jason); 11 Great Grandchildren; and 6 Great Great Grandchildren.

Services are at First Baptist Church in Wimberley, Texas on Friday, June 1, 2018. Reception will begin at 12:00 PM in the afternoon, visitation will begin at 1:00 PM, and the funeral service will start at 2:00 PM. Interment will follow at the Wimberley Cemetery.