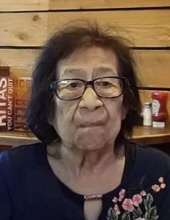 Obituary for Cresencia Suarez
Cresencia Suarez, 89, of San Marcos, TX passed away on Friday, June 22nd at her home. She was born in Martindale, TX on April 18, 1929 to Urbano and Anacleta (Torres) Sanchez. She is survived by her daughters Clara Rodriguez of Mountain City, TX, Mary Overton of Smyrna, Georgia, Elizabeth Suarez of Ft. Worth, TX; sons Robert Suarez of Los Angeles, CA, Hector Suarez of Ferndale, Washington, Edward Suarez of San Marcos, TX, Ruben Suarez of Los Angeles, CA, 20 grandchildren, 27 great-grandchildren, and 9 great great grandchildren. Numerous nieces and nephews.

Cresencia was preceded in death by her parents Urbano and Anacleta (Torres) Sanchez; husband Eliseo Suarez; brothers Florentino Sanchez and Jose Sanchez; sisters Herlinda Sanchez and Maximina Sanchez. Also a daughter, Celia Suarez. A visitation will be held from 3:00-9:00 p.m. at the Thomason Funeral Home in San Marcos on Thursday, June 28th with a recitation of the holy Rosary beginning at 7:00 p.m. A mass of Christian burial will be celebrated at 10:00 a.m. at St. John Catholic Church in San Marcos, TX on Friday, June 29th and interment will follow at Memory Lawn Memorial Park in Martindale, TX.

She was a noble woman, at the age of 29 became a widow and raised her children. She never remarried. Her legacy will be that she was a mother and loved her children and instilled the importance of education and to be respectful to others. She loved her grandchildren, and always would buy items to give the family. She was very strong, and very courage. She made sure all her kids made there sacraments. She had a lot of faith, and during her era, she did not drive, no health insurance, and only her faith kept her intact. She would put clothes in layway and every year, for her children, make sure they look nice. She was a proud woman, and did not like to impose on anyone. She often took a taxi to go to town or would walk to town with her children. In her earlier years she would babysit or care for the neighbors/ friends and children. We will miss her and but her memory will be kept alive in our hearts.

She cared for her mother, that lived to 104, yet was never bed written, and two sisters., since my grandparents. She also helped raise her first two grandchildren. Corina Rocha, and Michael Deleon.

Only two of her children lived near, so she made sure she would travel to visit them the family. She always would give us advice to all her family especially the grandkids.. We will miss her and but her memory will be kept alive in our hearts.