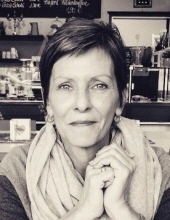 Obituary for Dona Lyn Hardwick
Dona Lyn Sweet Hardwick
10/10/58 - 06/25/18

Dona Lyn Sweet Hardwick, age 59, passed away at Seton Medical Center in Austin, Texas at 6:50 pm surrounded by her mother, her two girls, and her son-in-laws.

Born in Brenham, TX, she graduated high school in Valley Mills, TX. She attended South Plains Jr, College and then Southwest Texas in San Marcos and received her bachelor's degree in nursing, working as a registered nurse until her untimely departure. She was voted most beautiful in her graduating class (1977) and was homecoming queen.

She always gave so generously and never expected anything back from anyone. She loved to spoil her grandchildren (Ryker, Josiah and Bellamy Rutherford), making sure to give them lots of chips, candy, and especially Dr. Pepper (she never was without a Dr. Pepper).

She's survived by her mother and step father, Paul and Julia Raburn of Valley Mills, TX; daughters Hannah Rutherford and Molly Hardwick; son-in-law Brian Rutherford and soon-to-be-son-in-law Nathanael Smith; grandkids Ryker Luke, Josiah and Bellamy; brothers Dee Sweet (Colby Kansas) and Don Sweet; and sister Dana Young (Waco, TX). Preceded in death by her father Robbie Dee Sweet.

Dona's memorial service will be held at 2:00 PM on Sunday, July 1, 2018 at Thomason Funeral Home in Wimberley. For more information, call Thomason Funeral Home at (512) 847-2226 or visit www.thomasonfuneralhome.com to sign the guest book.