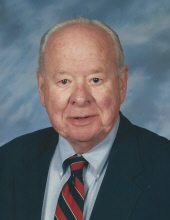 Obituary for Lyon Louis Brinsmade
Lyon Louis Brinsmade passed away at Eden Hill retirement community in New Braunfels, Texas on Friday, July 27, 2018. He was born February 24, 1924 to Robert Bruce and Helen Steenbock Brinsmade in Mexico City, Mexico. He was a teenager when his father died and his mother moved the family back to Madison, Wisconsin where her family had its roots and where her brother, Dr. Harold Steenbock, is credited with ground-breaking discoveries in the fields of health and nutrition.

Lyon Brinsmade earned his Bachelor of Science degrees in Mining Engineering and in Geology at the University of Wisconsin and Michigan Technological University. After his graduation and brief periods of working as a mining engineer in Mexico and as a geologist for an oil company in Venezuela, he served with the U.S. Army, mostly in the Panama Canal Zone.

Upon conclusion of his military service, Mr. Brinsmade entered Harvard Law School where he earned his Doctor in Jurisprudence degree in 1950. For nearly five decades thereafter, he devoted his time to the practice of international law in Houston, first as an associate and partner in the law firm of Butler & Binion, and subsequently as partner and Senior Counsel of Porter & Hedges, L.L.P. In each of those firms, he headed the international practice section of the firm.

Mr. Brinsmade also participated actively over the years in professional organizations, serving as chairman of the American Bar Association's Section of International Law and Practice (1980-81), as well as on the Councils of the American Society of International Law, the Inter-American Bar Association, the State Bar of Texas' Section of International Law, holding chairmanships in several committees within the above organizations, and serving in various capacities in numerous other professional and civic organizations.

The Brinsmade family traces its history back to England during the days of Henry VIII and the arrival of the first immigrant ancestors in New England in the early 1600's. This fascinating heritage fostered his lifelong keen interest in history, antiques, and genealogy. In pursuit of these interests, Mr. Brinsmade became a member of the Sons of the American Revolution and researched genealogical information for the Brinsmade family.

Not long after the start of his legal career in Houston and his marriage to Susannah Tucker, Mr. Brinsmade was attracted to the beauty and peace of the Texas Hill Country; thus, Wimberley soon became a second home where he and his family spent many weekends and vacations.

As a lifelong devoted member of the Episcopal Church, Mr. Brinsmade was a founding member of St. Stephen's Episcopal Church in Wimberley. From the early 1970's until very recently, Mr. Brinsmade served the church in various capacities.

After his retirement, Mr. Brinsmade and his then-wife Carolyn Hartman Brinsmade moved their permanent home from Houston to Wimberley where they continued to share their love and care for their peaceful ranch and their combined support of the Episcopal Diocese of West Texas. Years after Carolyn's death, Mr. Brinsmade married Elizabeth Bonnet Markland who brought purpose and joy back to his life until her death in September, 2015.

Mr. Brinsmade is preceded in death by his wife Elizabeth Bonnet Brinsmade, his former wife Carolyn Hartman Brinsmade, and by his first wife, Susannah Tucker, his parents, and four brothers and two sisters.

Mr. Brinsmade is survived by his two daughters, Christine Tillman of Wimberley, and Louisa Brinsmade of Austin; five grandchildren, five great-grandchildren, and many nieces and nephews.

Funeral services will be held beginning at 10:00 am on Wednesday, August 22 at St. Stephen's Episcopal Church in Wimberley, followed by committal at the adjoining St. Stephen's Cemetery. The Right Reverend David Reed will officiate the services in collaboration with Reverend G.M. Sandra Casey-Martus, Rector of St. Stephen's.

In lieu of flowers, Mr. Brinsmade's family and friends suggest that contributions may be made in his memory to St. Stephen's Episcopal Church addressed to 6000 FM 3237
Wimberley, TX 78676

For more information, call Thomason Funeral Home at (512) 847-2226 or visit www.thomasonfuneralhome.com to sign the guest book.