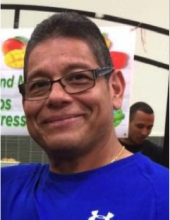 Obituary for Juan Carlos Garcia
Juan Carlos Garcia, of San Marcos, passed away on Sunday, Aug. 19, 2018 at the age of 54. A beloved husband, father, grandfather, friend, and bodybuilder extraordinaire, Carlos brought joy, laughter, encouragement, and hope to the lives of many and was an inspiration to all. A pillar of strength and courage, a bright and shining light in the world, Carlos will be remembered fondly as a man of great compassion, generosity, charisma, optimism, humor, faith, and resiliency – an honorable man with a heart of gold. Carlos was love in human form.

Carlos is survived by his wife of 34 years, Silvia; his daughters, Karla Buchanan and Laurie Garcia; his son-in-law, Jeff Buchanan; and his treasured granddaughters, Sophia and Clara Buchanan. He is also survived by his father (Carlos), his 3 sisters (Lucy, Maggie, Alicia) and brother (Francisco), and 11 nieces and nephews. His cherished mother, Maria de Lourdes Alcocer, precedes him in death.

Carlos will be missed dearly by his family, friends, the SMAC community, and by the countless lives he touched during his time on earth.

The visitation will be held on Wednesday, August 22nd at Thomason Funeral Home in San Marcos from 4 PM – 7 PM followed by a rosary service from 7 PM – 8 PM. A Catholic mass honoring Carlos will be held on Thursday, August 23rd at St. John's Catholic Church in San Marcos at 10 AM. Interment will follow at Memory Lawn Memorial Park in Martindale. For more information, call Thomason Funeral Home at (512)396-2300 or visit www.thomasonfuneralhome.com to sign the guest book.