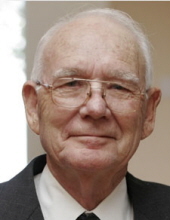 Obituary for Emmet Eugene Kelly
KELLY, Emmet Eugene (Pat)

Emmet passed away on Monday May 14, in Austin, Texas. He had celebrated his 91st birthday three days earlier surrounded by his adoring family. Emmet was born in Odessa, Texas on May 11, 1927 to Dewey M. (nee Coats) Kelly and Garland K. Kelly. He grew up there graduating from Odessa High School in 1945. Immediately upon graduation, Emmet enlisted in the Marine Corp as his brothers and cousins had done.

Shortly after the war, Emmet travelled with his brother Kenneth to Clifton, Texas to enroll in the college there. In that small town he met Joe Ann Kennedy (Jody) to whom he would give his whole heart. They married on December 8, 1947 and were blessed to spend the next sixty-one years as husband and wife. They moved several times in the early years as Emmet pursued his education. He earned a B.S. in Geological Sciences from Texas Tech University (1950), a M.Ed. in Education from Southwest Texas State College (1955) and a doctorate in Educational Psychology from the University of Texas at Austin (1964).

Emmet and Jody were blessed with five healthy children. The elder three, Paula, Carolyn and Kathy, were born in Odessa, while the younger two, Jean and Joe, were born after the family moved to Austin. Emmet devoted himself to fatherhood and took great joy in watching his children grow and develop. Later in life, he would be blessed with ten grandchildren and four great-grandchildren and had recently learned that there is one on the way who is to be his namesake. Emmet strived to be engaged in the lives of all of his family members and to let them know that he had a special love for each of them.

Emmet always saw the best in people. His sincere interest in and concern for people brought him success throughout his career. His patient and gentle guidance in the roles of classroom teacher, school counselor and University professor influenced the lives of many along the way.

Emmet's personal life was characterized by a lifelong love of learning as well as a sense of humor that was evident even in the most trying of times. He knew that "things have a way of working themselves out". He never ran out of philosophical questions to pose to his children and grandchildren, who could never be quite sure if he was serious or just trying to get a laugh. To Emmet it didn't matter. A smile from a child was just as good as an answer to one of life's great questions. His hobbies included gardening and painting, the latter of which he took up after retirement. Many of his paintings reflect his reverence for and keen perception of nature.

Emmet was dearly loved by many and will be greatly missed. Emmet is preceded in death by his wife, Joe Ann Kelly and daughter, Paula K. Wolking. He is survived by his brother, Jay Kelly and wife Georgia; daughters Carolyn Ellis and husband Jon of Austin, Kathleen Mihalik and husband Samuel of Austin, Jean Darling and husband David of Katy; son, Joseph Kelly and wife Shannon of Dripping Springs and son-in-law Dennis Wolking and wife Susan of San Marcos.

Emmet's life will be celebrated at 10:00 am on Friday, May 25th 2018 in a graveside service in the San Marcos City Cemetery at 1001 Ranch Rd. 12. Immediately following the service, all are invited to join the family in a reception to be held in the Parish Hall at St. Mark's Episcopal Church at 3039 Ranch Rd. 12.

For those desiring, you may access the online registry and obituary at www.thomasonfuneralhome.com. The family suggests that any gifts may be made to the Parkinson's Foundation in memory of Joe Ann Kelly.