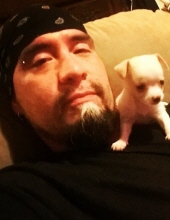 Obituary for Bernard Martinez Samaniego
Bernard "Bernie" Samaniego, Jr. 34, of San Marcos was called home on June 1, 2018. Bernie was born June 4, 1983.

He is survived by father, Bernard Samaniego, Sr. (Sylvia); mother, Barbara M. Alvarez (Thomas); siblings Abraham Samaniego (Laurie), Christopher Samaniego, Daniela Samaniego, Manda Alvarez, Thomas James Alvarez, Sr., John Eric Gonzales, Elizabeth Gonzales; and numerous nieces and nephews.

Bernie is proceeded in death by grandparents Margarita "Margie" V. Garcia and Les Garcia, Henry Martinez, and Belinda Gonzales; aunt Carmen Martinez; and nephew Thomas J. Alvarez, Jr.

There are not enough words to describe the man Bernie was. Bernie impacted everyone he has ever come into contact with. Bernie's favorite sport is pool, if you were lucky enough to play with him then you probably lost. Bernie loved his family so much - there was nothing in this world he would not do for us. He will be greatly missed.

Visitation will be held at Thomason Funeral Home in San Marcos on Thursday, June 7, 2018 from 2:00 PM – 7:00 PM with the Rosary from 7:00 PM – 9:00 PM. Final viewing will be held at St. Michael's Church, 80 S. Old Spanish Trail, Uhland, TX 78640 on Friday, June 8, 2018 at 9:00 AM with Mass starting at 10:00 AM.

Pallbearers will be Abraham Samaniego, Chris Samaniego, Thomas J. Alvarez, Joseph Gutierrez, Eric Gonzales, Andrew Ramirez, Jacob Mercado, David Hernandez, and honorary pallbearer, Rick Herrera.

For more information, call Thomason Funeral Home at (512) 396-2300 or visit www.thomasonfuneralhome.com to sign the guest book.