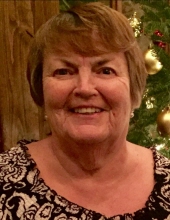 Obituary for Joanne Mary O'Reilly
Joanne Mary O'Reilly, 75, of Wimberley, TX passed away at her home on Monday, July 30th.

Joanne was born to Wilfred J. Lightcap and Rita Magazine on August 12, 1942 and grew up in the Chestnut Hill neighborhood in the city of Philadelphia and was affectionately known as "Blondie" during her childhood years. Joanne was blessed with Platinum Blonde hair and a radiant smile which enabled her to win the hearts and minds of just about everyone that ever met her.

Joanne graduated from Cardinal Dougherty High School in Philadelphia in 1960. Joanne was on the Girl's Drill team and participated with the marching band in all their performances.

Joanne competed in many sports at the renowned Water tower Activity Center in Chestnut Hill and was active in all the many theatrical and community events while she was growing up.

After High School Joanne worked as a Secretary to the Commanding Officer at the US Navy Supply Center in Philadelphia. Joanne was known as the "Gunner" on the Supply Center Girls Basketball Team.

Joanne married John O'Reilly in 1961 and they have been happily married for fifty seven years. During those years the Family moved from Philadelphia to Texas and they raised their seven kids known as the "Texas Full House". The name came from the fact that they have four Kings and three Queens. In Texas everything is always bigger and better.

Joanne became very active in the Girl Scouts in Austin. Joanne became a leader and a trainer of many young girls and loved the camping and educational activities that she trained the girls for their future successes. During her years in scouting Joanne became the Council wide Girl Scout Cookie Manager and she ran the complete program with hundreds of girls and leaders. Joanne was a Lifetime Girl Scout and was recognized as a valuable leader for over 35 years in the Lone Star Girl Scout Council.

Later in life Joanne was involved with a number of Alzheimer disease groups. Joanne suffered with the Alzheimer's disease. Joanne has been an active participant in many of the local community groups.
During the last year Joanne's Alzheimer disease advanced and caused a severe change in Joanne's health and involvement in the many social and community groups that she had been active in.

Joanne's legacy will be forever the loving mother and wife to an extraordinary family. Her seven children have now grown the family to a dynasty of over 30 loving individuals who will always be thankful to have had the life experiences with their dear Mother, Grand Mother, and Great Grand Mother.

Joanne is survived by her loving husband , John "Jack" O'Reilly; son, Sean O'Reilly and his wife, Kim; son, Michael O'Reilly and his wife, Lisa; son, Tim O'Reilly; daughter, Debbie O'Reilly; daughter, Kathleen O'Reilly; son, Bryan O'Reilly and his wife, Susan; daughter, Tara Osborne and her husband, Coby. Fourteen grandchildren and two great-grandchildren.

The family will receive friends from 5-8 p.m. on Thursday, August 2nd at the Thomason Funeral Home in Wimberley, TX and a recitation of the holy Rosary will begin at 7:00 p.m. A mass of Christian burial will be celebrated at 1:30 p.m. on Friday, August 3rd at St. Mary Catholic Church in Wimberley, TX. The burial will follow at St. Mary's Catholic Cemetery, followed by a reception at the St. Mary's Parish Hall. Flowers and/or donations can be made to St. Jude's Hospital or the Alzheimer's Foundation of America.
For more information, call Thomason Funeral Home at (512) 847-2226 or visit www.thomasonfuneralhome.com to sign the guest book.